Downsizing: What to do with a lifetime of stuff (featuring an Uptown condo resident)
January 11, 2016 • Live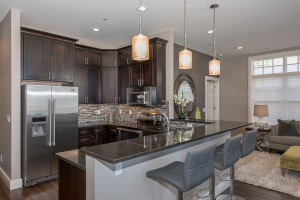 MIDLAND, MI (Midland Daily News) – This past year, Van Slyck's staff conducted an estate sale for an Essexville resident, Tammy Asel-Templin, who moved from a 3,000-square-foot home that sat on an acre lot. A single mom of two college-aged daughters, Asel-Templin found home maintenance to be overwhelming with her full-time job at Consumers Energy. She put her home on the market, priced it to sell, and she had two weeks to move to her 1,500-square-foot, two-bedroom Uptown Condominiums unit on the Saginaw River in downtown Bay City.
"My girls had a wonderful childhood in that home, but we live a different life today," Asel-Templin said. "They work so hard at grad school. When they come home, now it's just going to be fun. We're going to go shopping or to the gym or out to eat."
Read more on OurMidland.com.