With nearly all condos sold, Uptown Bay City coming to life
November 29, 2015 • Live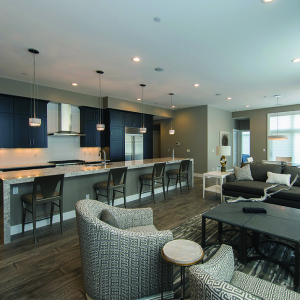 BAY CITY, MI (MLIVE) – Less than a year after its first residents moved in, 18 of the 20 available condos, including two of the four penthouses, at Uptown Bay City are now sold, planting a healthy number of residents into Bay City's newest business district that's quickly coming to life.
The condominiums — located above Chemical Bank, Don Angelos Aveda Lifestyle Salon, The Fix coffee shop and Uptown Grill — feature elegant, modern finishes and amenities and top-of-the-line appliances. Units range in size from 764 square feet with a 60-square-foot balcony, to a two-bedroom penthouse measuring in at 1,750 square feet and a 100-square-foot balcony.
If the smaller-sized units — ranging in sale price from $152,000 to nearly $300,000, according to property records — are considered nice. The penthouse units — one sold for $445,000 and the other for $495,000 — are exquisite.
Read more on MLive.com.