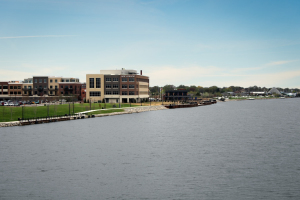 Unique $40 Million Public-Private Partnership Created 500 Jobs, Transformed a Michigan Skyline
Bay City, Michigan, – The Uptown project in Bay City has been recognized by the U.S. Environmental Protection Agency for outstanding contributions to brownfields site redevelopment at the 2015 Brownfields Conference held in Chicago, IL.
The 43-acre Uptown riverfront redevelopment has radically changed a blighted and contaminated industrial site into a vibrant, new mixed-use urban environment. "Uptown is a truly transformational project that continues to positively change Bay City's skyline," said Steven Black, Chair of RiversEdge Development Corporation, a public private partnership. To date, more than $40 million has been invested and over 500 jobs have been created. The redevelopment includes brownstones, condominiums, corporate offices, restaurants, a public river walk and a marina. In addition, a hotel and medical facility are currently under construction.
The redevelopment effort was envisioned by RiversEdge Development Corporation, who ultimately selected Bay Riverfront Development to realize the transformation. "Successful economic development is a team effort and we've had a fantastic team," Steve said. "The Shaheen family shared our vision and have again demonstrated their capabilities and their pride in our region."  Also working closely with the development team, including the City of Bay City and Bay Riverfront Development, were the teams of AKT Peerless and Warner Norcross & Judd who served as valued project partners.
Read more on AKTPeerless.com