McLaren Bay Region Holds Topping Off Ceremony for New Uptown Bay City Building
September 26, 2015 • Work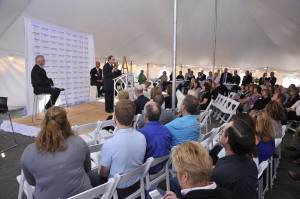 BAY CITY, MI – McLaren Bay Region and Landmark Healthcare LLC held a topping off ceremony this morning of the new McLaren Medical Building at Uptown Bay City.
An expansion of existing facilities, the new building will house state of the art technology for a wide range of outpatient medical services, like a comprehensive endoscopy center, a wound care center, a hyperbaric oxygen chamber, a minor lab draw center and many others.
President and CEO of McLaren Bay Region Clarence Sevillian says the new building is a response to a growing need for services it did not previously offer.
"We thought it would be critical to add some of these services to our market, specifically occupational medicine and wound care and hyperbaric oxygen, so being able to do that and create better access for our patient population is exactly why we're creating it and working within our community to do that."