Thursday's at Uptown concert series kicks off in Bay City
June 15, 2015 • Play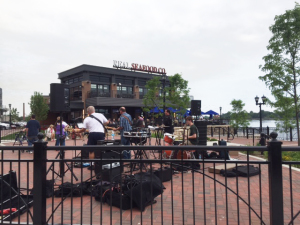 BAY CITY, MI — A modest, but enthusiastic crowd turned out Thursday, June 11, for the first-ever Thursdays at Uptown concert.
The event, held from 6-7:30 p.m., featured a performance by Bay City's own Josh Ramses Band.
The concert series, presented by Shaheen Development, is to continue each Thursday through Aug. 27. All of the shows start at 6 p.m. Admission is free, but donations are accepted by the musicians.
"Bring your lawn chairs down, sit by the water and listen to the music," said Mike Bacigalupo, director of operations at Bay City's historic State Theatre and a representative of the Bay Arts Council.
Read more from MLive.com.