Uptown Bay City Restaurants Will Tempt Your Taste Buds
November 13, 2014 • Play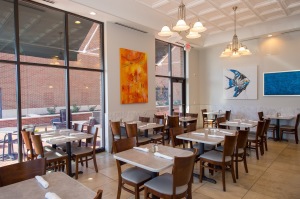 Bay City, Mich. – Whether you need a quick shot of caffeine or want to enjoy a leisurely lunch downtown, Uptown Bay City's menu of new tenants includes it all.
Uptown Grill and The Fix are just two of the dining options that will call Uptown home.
Uptown Grill
Uptown Grill is a casual bistro, offering fresh and light lunches and breakfast options that break with tradition and give diners a fresh taste of classic choices. There are sweet and savory options for breakfast, some made with a special pan-frying technique. There are light options of fresh fruit, granola and yogurt, and hearty options like biscuits and sausage gravy. There are many pancake possibilities from traditional buttermilk to sweet cinnamon roasted Fuji apple and walnut pancakes that are sprinkled with powdered sugar and a touch of caramel.
There are many alternatives for those who are health conscious or have dietary restrictions. The sweet potato pancakes are low-fat and cholesterol-free. There are also gluten-free pancakes and all meats served at Uptown Grill are unprocessed. Vegetarian options are also available.
For lunch, they offer a variety of soups, salads and sandwiches. Guests who have a taste for something special can create their own omelets or burgers choosing from a variety of fresh toppings, cheeses, sauces, condiments, meats and breads.
Restaurateur Vince Stuart, who also owns the Stock Pot Diner in downtown Bay City, expects to open the bistro November. Uptown Grill is also available for rent if you are planning a special event for up to 100 of your closest friends.
"One goal of the Uptown development was to include a variety of dining options and the fact that experienced mid-Michigan restaurateurs like Vince joined us in this endeavor shows that they are as proud as we are of the Great Lakes Bay Region and want to be an integral part of its growth," said Pete Shaheen, vice president of Shaheen Development, Uptown Bay City's developer.
The Fix
Whether you want to grab a quick cup of coffee on your way to work or want a place to sit and relax with friends, downtown's newest coffee shop, The Fix, will offer an upscale coffee experience, serving organic, fair-trade coffee and baked goods including gluten-free and vegan options.
The Fix is proud to offer Counter Culture Coffee as well as feature other high-quality coffee brands and flavors on a rotating basis.
Coffee connoisseurs can enjoy pour-over and AeroPress options. Pour-over coffee is method of brewing coffee that takes time, but drinkers can taste the difference—it's not your typical batch-brewed flavor. Coffee brewed using an AeroPress has a shorter brewing time, using air pressure to improve the extraction of flavors.
Guests can enjoy local talent while sipping their beverage of choice. The Fix will decorate with the work of local artists, offer open mike nights and host events.
Owner Jack Rechsteiner expects to open The Fix at Uptown on November 22, 2014.
Together, Uptown Grill and The Fix will create around twenty jobs in downtown Bay City.
Other businesses joining these restaurants in the Uptown development are Dow Corning Corp., McLaren Bay Region, Chemical Bank, a Courtyard by Marriott hotel, and The Real Seafood Co. restaurant.
Uptown Bay City is a mixed-use development, with corporate offices, retail stores, residential condominiums, and restaurants. Its development company, Shaheen Development, is a family-owned real estate development firm that focuses on promoting growth and redevelopment within the Great Lakes Bay Region of Michigan. For more information on the development, please visit www.UptownBayCity.com.
Read more at Mid Michigan's Second Wave.