Uptown Bay City Welcomes Dow Corning to Our Neighborhood
August 13, 2014 • Work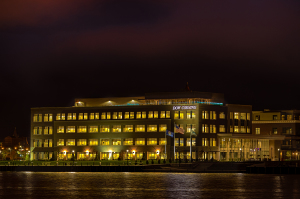 Bay City, Mich. – When you head to downtown Bay City for lunch, you will probably see a new face or two, or more than 300.
Dow Corning employees began working in their Uptown Bay City offices on August 4.
"Dow Corning is proud to call the Great Lakes Bay Region home. We are committed to seeing this area grow and flourish," said Kristy Folkwein, Dow Corning's senior vice president and chief information officer of Global Business Services. "Our involvement in the Uptown Bay City development further demonstrates our commitment to economic development in the regions where our employees live and work. We're excited for our employees to experience the benefits of Bay City and all that this new, collaborative workspace offers."
"I know the people who already live, work and play in Bay City will welcome this new group of people because we are all proud of our region and excited for all the possibilities that Uptown brings to Bay City," said Dr. Samuel Shaheen, president of Shaheen Development, Uptown's developer.
Dow Corning's Business Services Center at Uptown provides employees with an open-office work environment designed to encourage greater collaboration, inspiration and productivity, while taking advantage of the latest technologies.
"Dow Corning, with its long history and roots in the Great Lakes Bay Region, continues its commitment to our community by choosing to advance their business goals as residents of Uptown," said Pete Shaheen, vice president of Shaheen Development.
Other businesses joining Dow Corning in the Uptown development include McLaren Bay Region, Chemical Bank, a Courtyard by Marriott hotel, and The Real Seafood Co. restaurant.
Uptown Bay City is a mixed-use development, with corporate offices, retail stores, residential condominiums, and restaurants. Its development company, Shaheen Development, is a family-owned real estate development firm that focuses on promoting growth and redevelopment within the Great Lakes Bay Region of Michigan.