Uptown Bay City Releases Residential Condominium Details
May 22, 2014 • Play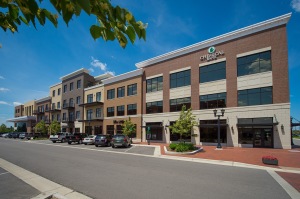 Bay City, Mich. – Uptown Bay City is now accepting deposits and scheduling move-ins for summer 2014 for those wishing to live at the brand new downtown community.
"We are excited to be one step closer to having people move into Uptown. The new downtown community will eventually be home to as many as 200 residents; residents who will shop, eat, and enjoy all that Bay City has to offer," says Pete Shaheen, vice president of SSP Associates, Uptown's developer.
All units have fully equipped kitchens with granite countertops, covered private parking, and a balcony. All master bedrooms have large attached bathrooms with heated floors. There is also a design consultation center available, for residents looking to select finishing options for their condo. There are approximately 20 units available, and the development will eventually include residential brownstones.
Sixteen one and two bedroom condominium units are available for purchase. The units range in size from 764 to 1,270 square feet, and are priced starting at $142,000 through $225,000. Each condo unit includes a large balcony.
Four penthouse units, featuring expansive balconies with river views, are 1,731 square feet, including 3 bedrooms and two-and-a-half baths are also available.
Dr. Sam Shaheen, president of SSP Associates, adds, "While the Uptown development is changing the face of the riverfront in downtown Bay City, Uptown residents will be the foundation of this new community.
"We're thrilled to be able to work with SSP Associates and the future residents of Uptown," says Theresa Gagnon, real estate agent at Century 21 Signature Realty.  "Being in a convenient, walkable community, the development is perfect for any lifestyle, from young professionals with busy schedules to retirees."
To reserve a unit at Uptown, call Theresa at Century 21 Signature Realty at 989-797-5827, or send an email to uptown@c21signaturerealty.com.
Residents will enjoy easy access to the Bay Area Y, the Riverwalk, downtown shops, restaurants, parks, and festivals. During the winter months, residents and visitors can walk easy knowing their sidewalks are heated and ice free. Residents also will be near commercial tenants Dow Corning Corp., McLaren Bay Region, Chemical Bank, a Courtyard by Marriott hotel, and The Real Seafood Co. restaurant.
Uptown Bay City is a mixed-use development, with corporate offices, retail stores, residential condominiums, and restaurants. Its development company, SSP Associates, is a family-owned real estate development firm that focuses on promoting growth and redevelopment within the Great Lakes Bay Region of Michigan.
Read more at WSGW.