SSP Associates Announces "Uptown Drive" And Future Tribute Site
April 17, 2014 • Play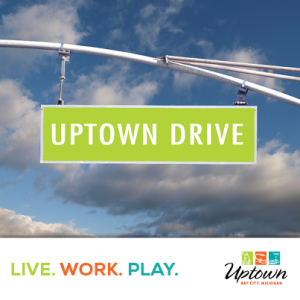 Bay City, Mich. – SSP Associates is proud to announce the chosen name of the waterfront street in Uptown Bay City: "Uptown Drive."
Through a Facebook contest, SSP Associates asked for public opinion in naming the main street anchoring Uptown. The winning name, "Uptown Drive," suggested by David Roger Stoddard, was chosen from nearly 300 suggestions.
"We'd like to thank the public for the overwhelming response and thoughtful suggestions in naming Uptown's waterfront street," says Al Warr, development manager of SSP Associates.
SSP Associates plans to implement other suggestions toward landmarks and additional roads in future phases.
Uptown Bay City will also pay tribute to a local woman, spurred by a heartfelt contest suggestion from her son. Rosalie Brondstetter was a young woman killed at the Brown Hoist plant in 1979, and a pioneer female welder in a male-dominated industry.
"We plan to honor her legacy and spirit within the Uptown site," says Warr. "We are looking at locations along the river walk."
Uptown Bay City is a multi-million, two-phase development project, transforming a former industrial site into a 43-acre complex of new commercial buildings, riverfront restaurants, brownstone residentials, condominiums, and penthouses. Uptown Bay City's newly-launched website can be found at www.UptownBayCity.com.
Uptown Bay City is a mixed-use development, with corporate offices, retail stores, residential condominiums, and restaurants. Its development company, SSP Associates, is a family-owned real estate development firm that focuses on promoting growth and redevelopment within the Great Lakes Bay Region of Michigan. For more information on the development, please visit www.UptownBayCity.com.
Read more on MLive.